2023 GMC Yukon, Yukon XL, & Yukon Denali LaGrange

It's no secret that General Motors' 2022 Yukon model made quite the splash, featuring an all-new interior, sharp new styling, a diesel engine option, technology, and more. But the 2023 GMC Yukon plans to take it a notch higher with advanced technology and more premium features.
So what are these small yet vital changes in this full-size premium SUV's new model? Read on to learn what the different Yukon trims and models offer.
Yukon Trims and Models
The 2023 GMC Yukon is available in the following trims:
SLE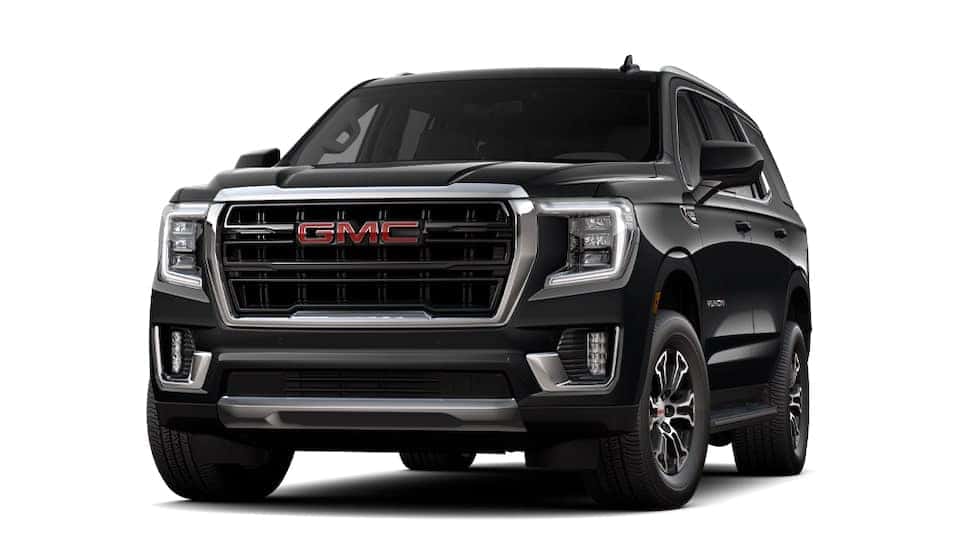 This full-sized SUV starts at $56,000 upwards and has room for up to nine occupants. It has a city/highway rating of 15/20 mpg and a maximum tow limit of 8,400 lbs. It also features a premium, GMC-standard infotainment system, a distinctive design, and remarkable capability.
SLT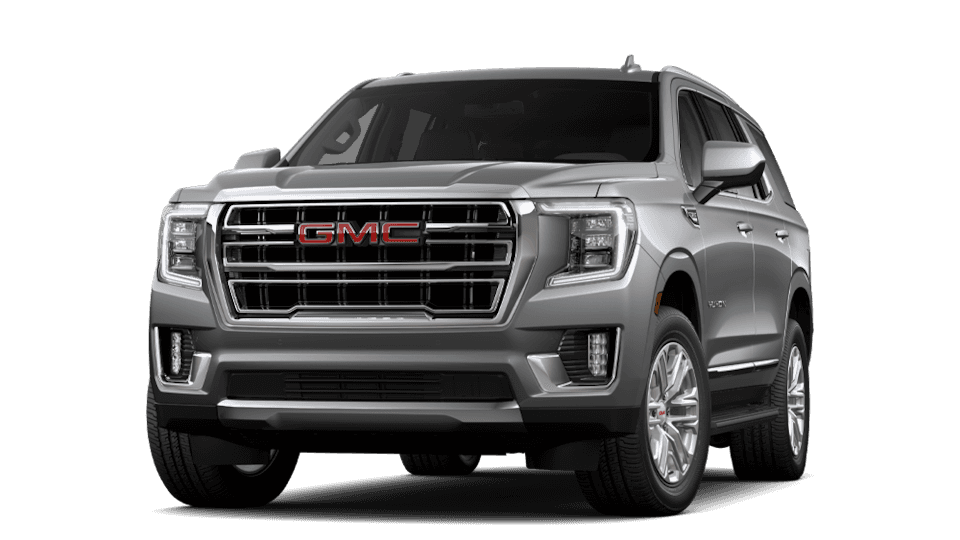 This Yukon trim shares multiple similarities with its SLE counterpart. The only differences are the high-definition surround vision technology and a power-sliding center console.
AT4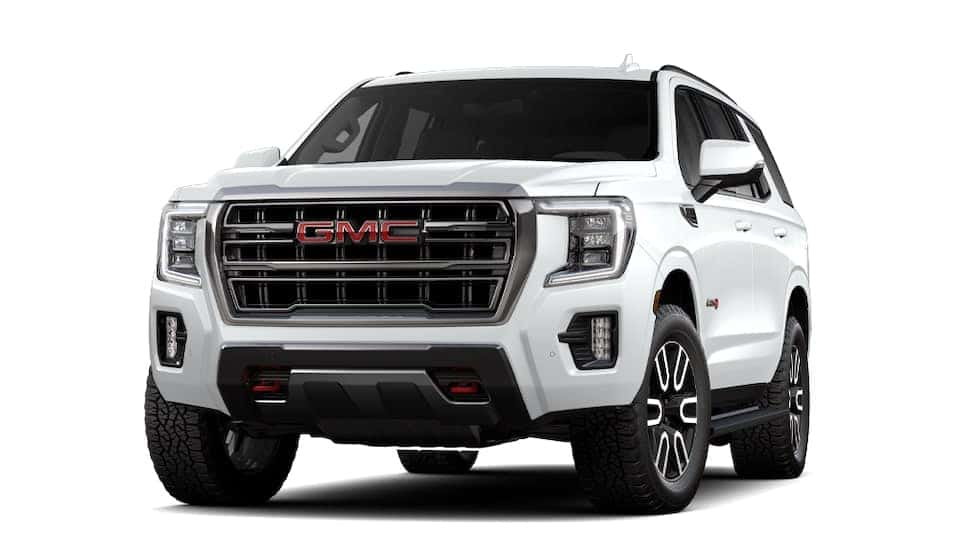 The 2023 Yukon AT4 is an exciting alternative to notable off-roaders like Toyota, Jeep, and Ford. Starting at $69,905, this affordable and capable SUV comes with a powerful 6.2-liter engine that delivers 420 horsepower and has an approach angle of about 32 degrees. It also has an active response 4WD system.
DENALI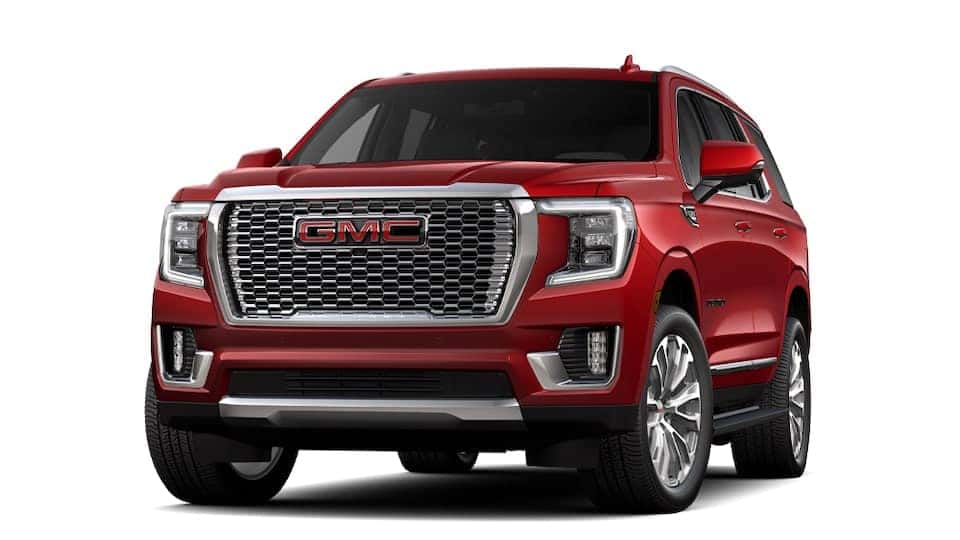 Starting at $73,505, the Yukon Denali represents the luxury end of the Yukon family. The price is worth it as the vehicle features a 14-speaker sound system by Bose, three interior color selections, and up to 8,200 lbs. trailering. The SUV's prevailing power is achieved by its impressive 6.2L V8 engine and the available 3.0-liter turbo diesel engine.
Denali Ultimate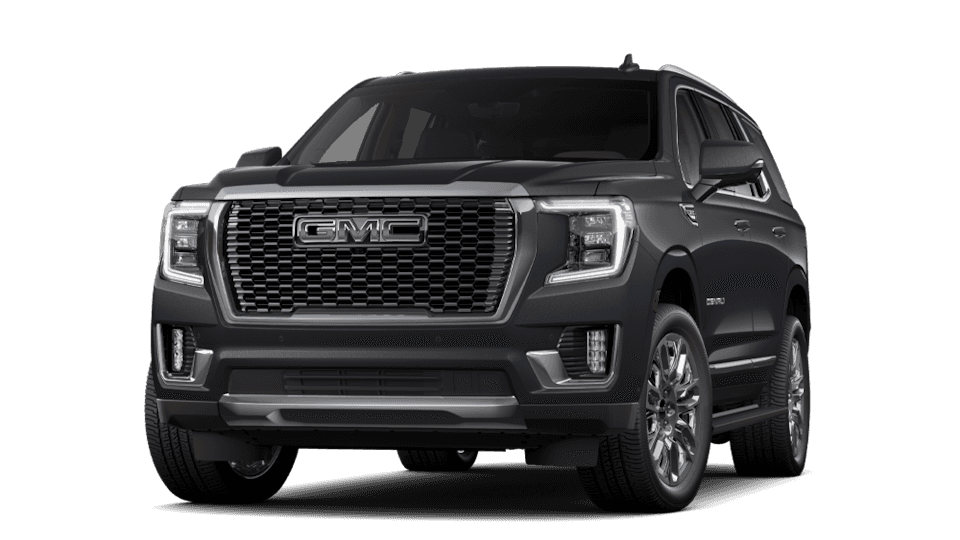 While the Yukon Denali ranks among the most iconic SUVs on the market, the 2023 Denali Ultimate can be considered a Denali on steroids. General Motors conveniently bundles the best-of-the-best into one of its fanciest trims by embedding performance and visual flair. Notable luxury features include:
An 18-speaker sound system by Bose (performance series)

Up to 8 occupants

Air Ride adaptive suspension

Super Cruise hands-free driving

Exclusive metal badging on the front seats
What's New With The 2023 Yukon?
Yukon's 2023 model comes with a few significant changes. First, GMC introduces Denali Ultimate, a brand new trim level, in the high-price lineup. It adds swankier leather upholstery (Alpine Umber), an 18-speaker sound system, one-pore wood trim, 16-way front seats (adjustable with massage), and more. Moreover, the premium SUV features a darkened chrome trim and 22-inch wheels.
Finally, the manufacturer lets you experience Super Cruise hands-free driving, but you'll only use the feature on highways. This makes it comparable to Tesla's Self-Driving, though it isn't as complex yet. You'll find this feature on the Chevy, Cadillac, and other models.
2023 Yukon Feature Highlights
Here are some key features of the 2023 GMC Yukon:
Superb cabin room

Multiple V8 options, including the 5.3-liter and 6.2-liter engines

A torquey 3-liter Duramax turbocharged diesel engine

Luxurious interior

Super Cruise, a self-driving feature

A maximum of 13 camera views

16-way power front seats with cooling, heating, and massage features

15-inch diagonal heads-up display
These are just the top features. We'll explore all the 2023 GMC Yukon has to offer in the following sections.
2023 Yukon Interior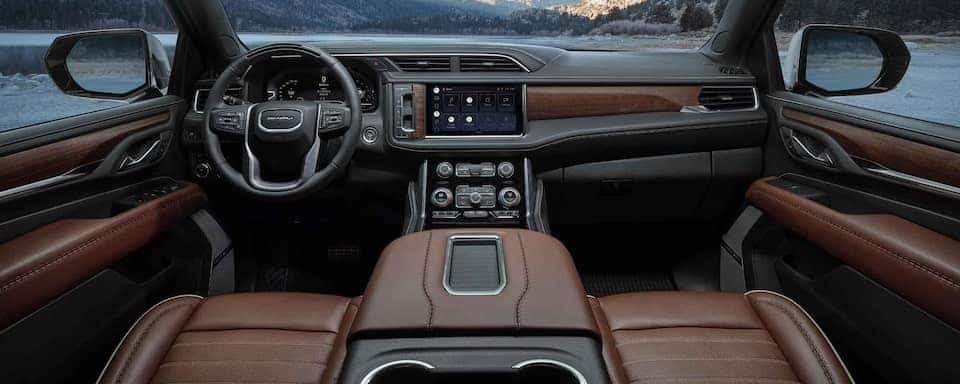 The 2023 GMC Yukon is among General Motors' most luxurious and accommodating vehicles. It comes in two configurations able to accommodate a maximum of nine occupants. Most trims feature front bucket seats and either individual captain seats with a narrow passage or a 3-piece second-row bench alongside third-row seats for three.
The new Yukon's impressive interior earns it a 9/10, but the Denali version's upgraded accommodations could prickle a ten-star rating. Its front seats have cooling, heating, and massage functions, ideal for all-day cruising. They also have additional adjustments and offer up to 42 inches of leg room for the second row. Adults may have a small problem accessing the third row, but you'll be comfortable once you get there.
Finally, the new Yukon offers 26 cubic feet of space behind the third row to stack up your gear, expanding to 145 cubic feet behind the first row. Quite impressive, right?
2023 Yukon Exterior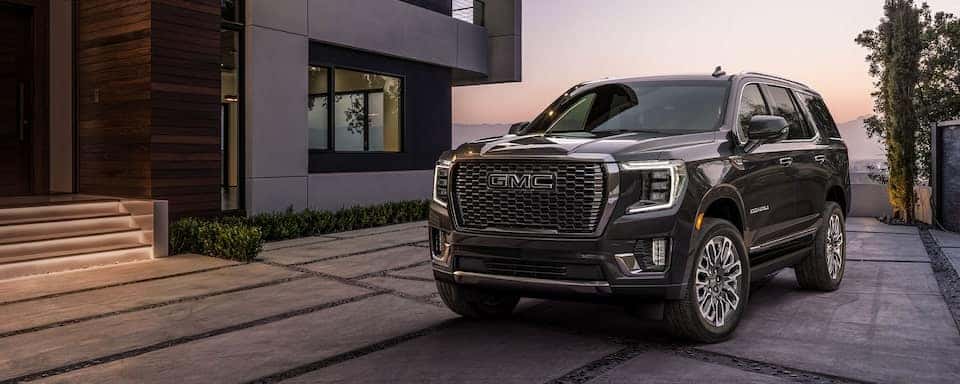 The 2023 GMC Yukon boasts a massive, in-charge sculpted interior featuring masterful design and powerful proportions that are sure to turn heads. The ride resonates with premium style thanks to the brand's signature C-shaped LED lights, polished satin-chrome, and bold grille. The exterior also features these premium wheel options:
22-inch bright machined aluminum wheels (available on Denali)

18-inch six-spoke machined aluminum rim featuring dark-gray accents (SLE standard)

20-inch six-spoke polished aluminum (available on SLE and standard on SLT).

20-inch six-spoke machined aluminum featuring carbon gray accents (AT4 standard)
Clearly, the 2023 Yukon's refined and sophisticated exterior is designed to capture attention and make a confident entrance.
2023 Yukon Capability
This highly capable vehicle comes with three 10-speed automatic transmission engine designs:
The 5.3L V8 engine delivers 383 lb. per foot and 355 horsepower. It works with variable valve timing or direct injection and is a standard on the SLLE, SLT, and AT4 trims. T
The 6.2L V8 engine is almost similar to its 5.3L counterpart. However, it delivers 383 lb. per foot and 420 horsepower and is standard on Denali and Denali Ultimate, and is also available on AT4.
The 3L turbodiesel engine delivers 460 lb. per foot and 277 horsepower. This is available on SLE, SLT, Denali, and Denali Ultimate trims.
The 2023 Yukon's two-speed transfer case lets you conveniently switch in and out of 4WD mode. It has an air-ride adaptive suspension (four-corner) feature for state-of-the-art adaptability. This off-road-ready SUV also offers:
Traction select system

Magnetic ride control

Hill-start assist

Hill-descent control

Active response 4WD
These features make the Yukon line one of the most capable SUVs available.
Pricing
The price of this SUV varies with trim levels and ranges from $56,000 to $73,505 (starting price). Of all the trims, the AT4 seems perfect for anyone looking for a full-size SUV with on- and off-road capabilities. The car's red tow hooks, chunky skid plates, and all-terrain tires highlight its off-road-ready exterior. It also has an excellent approach angle of about 32 degrees.
2023 Yukon Tech & Safety
The new Yukon packs excellent tech features besides the standard capabilities like Google Maps navigation, wireless charging, or Wi-Fi hotspot capability. For instance, all trims feature a 10.2″ infotainment touchscreen alongside the driver's 12″ digital instrument cluster. Denali trims achieve an even sleeker infotainment screen design that's embedded on the dashboard instead of sticking out.
General Motors has also made several key safety enhancements with the new model. For instance, the SUV has active lane control and offers emergency braking, blind spot monitors, and multiple cameras for towing and low-speed thriving. Other standard safety features include parking sensors, blind-spot monitors (optional), and adaptive cruise control.
Performance And Fuel Economy
This isn't the ideal vehicle if you're gas-conscious, but what do you expect? The SUV is quite massive and packs lots of power. There are three competent powertrains for the 2023 GMC Yukon, and all come with a ten-speed automatic transmission. Except for AT4, every other trim is available with all- or rear-wheel drive.
Yukon's V8 5.3-liter models can deliver 383 lb-ft of torque and 355 hp. For instance, the AT4's base engine can take 7.2 seconds to go from zero to 60. However, they're much thirstier, rating 15-20 mpg combined with RWD. The more popular models check in at only 16 mpg, contributing to the brand's green score of 1.
The 3-liter turbodiesels are the greenest Yukon varieties, which rate 27 mpg for highway, 21 for city, and 23 mpg combined with RWD. The front-wheel drive function rates at 21–27 mpg combined. Turbodiesels are also ideal if you're looking for maximum towing capacity, thanks to their 460 lb-ft of torque and 277 horsepower output.
Frequently Asked Questions
Is the 2023 GMC Yukon Worth Waiting For?
While the 2023 Yukon comes with multiple improvements, it's not worth waiting for if you expect a host of advancements and new technology. The new SUV is still part of the previous model year's generation, so if you're ready to buy it, just start with the 2022 model, as there'll be no significant difference.
Is the 2023 GMC Yukon a good SUV?
The 2023 GMC Yukon is a great choice overall, serving impressive towing capability, comfort, and refinement in a luxurious package.
How much is the 2023 GMC Yukon?
While the luxurious Denali's hand-stitched leather interior or the AT4's off-road equipment and butch looks may seem the most compelling, the SLT stands out as the most affordable and well-equipped. The mid-range model offers impressive features worth checking out. These include heating and cooling front seats, leather upholstery, driver-assistance features, a power liftgate, and outstanding 20-inch wheels.
Is the GMC Yukon a good-looking SUV?
This isn't a conventionally gorgeous SUV, but it has rugged, tough lines and offers lots of differentiation across the different trim levels. Generally, it's an excellent vehicle inside out, especially if you dress it up in Denali semblance.
Is the GMC Yukon 4WD?
It can be. All trims of General Motors' 2023 Yukon have the 4WD capability, but it's an AT4 standard. If you reside in a muddy, rainy, or snowy region, you may opt for the limited-slip differential, which essentially boosts traction when exploring slippery terrain.
Parting Shot
You now know what to expect with the 2023 GMC Yukon. So check out our inventory page for the best deals for the 2023 Yukon XL.