2023 Hummer EV Pickup Lagrange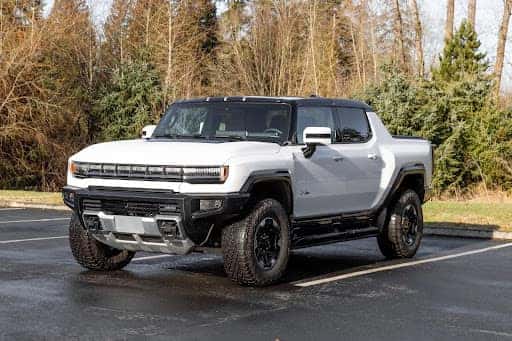 The Hummer vehicle has long been associated with a low gas mileage vehicle that isn't environmentally friendly. In 2021 GMC introduced the all-new Hummer truck and SUV as a premium off-road electric vehicle, and it's no longer a gas guzzler.
The 2023 Hummer EV Pickup is a super-truck delivering huge figures in horsepower and torque. As a result, it is quick off the line, is a capable off-roader, can haul plenty of luggage, and can tow huge cargo.
The Hummer EV pickup and SUV rolls out from General Motors, Factory Zero in Detroit-Hamtramck. With cool features such as Crab Driving mode and an infinity roof, the vehicle is slowly attracting fans meaning the factory will produce more units.
2023 Hummer EV Pickup Trims
Hummer EV Edition 1
Hummer EV 3X
Hummer EV Edition 1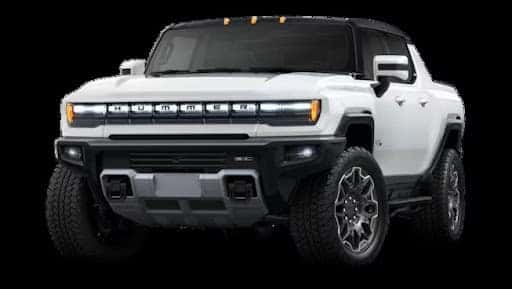 The Edition 1 is the lower trim level of the 2023 Hummer EV pickup. Its features include;
3 Motors powered by a 212.7 kWh Ultium battery
1000 Horsepower with 11,500 lb-ft of torque
329-mile range
All-wheel drive
18-inch aluminum wheels
8,500 towing capacity
Hummer EV 3X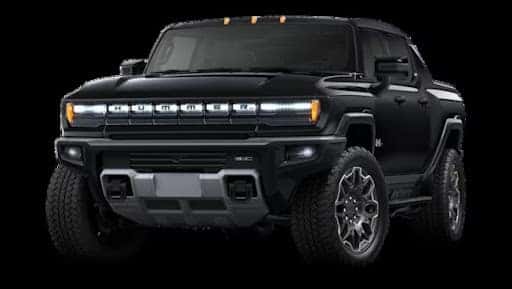 The 3X delivers more range and towing capabilities than the Edition 1 without additional packages. Other features of the truck include;
3 Motors
1000 Horsepower with 11,500 lb-ft of torque
355-mile range
All-wheel drive
22-inch aluminum wheels
8,500 towing capacity
2023 Hummer EV Pickup Exterior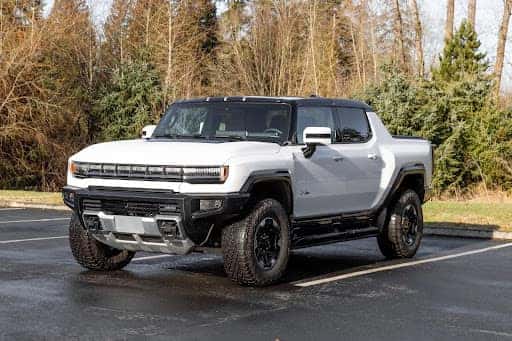 The first impression of the Hummer EV pickup truck is that of an enormous vehicle measuring 216.8 inches in length and 79.1 inches in height. While the Hummer brand is now under GMCs umbrella, the company still retains the H-Language design with the 2023 Hummer EV pickup.
2023 Hummer EV Pickup Interior
Inside the Hummer EV pickup cabin is plenty of space with the futuristic look that most electric vehicles have. It features a Lunar theme combined with accents in Tech Bronze.
The cabin of the Hummer EV truck can comfortably seat five adults. GMC makes the seats with synthetic leather. However, the driver and front-row passengers get heated and ventilated seats. The driver also has a heated steering wheel and a 12.3-inch driver information screen.
A massive 13.4-inch infotainment screen on the dashboard enables the driver to select and control several features. For example, they can control trailering, rear passenger climate, cameras, off-roading features, driving modes, and the GMC mobile phone app.
The sound system in the 2023 Hummer EV pickup is premium, as it offers a 14-speaker surround system. In addition, the speaker covers have the moon's surface engraved to enhance the lunar interior and design.
2023 Hummer EV Pickup Wheels and Suspension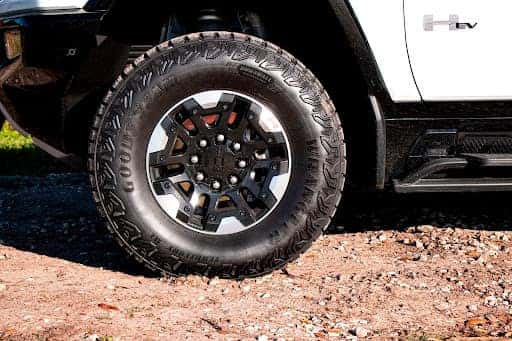 The Edition 1 trim has 18-inch tires paired with 35-inch Goodyear Wrangler tires. The 3X trim has 22-inch wheels paired with 35-inch Goodyear Wrangler tires. If you need even better off-road capabilities, 37-inch tires are available with either trim.
Since the 2023 Hummer EV is also a premium truck, it gets Adaptive air suspension to provide a smooth ride. The suspension is also handy in challenging off-road terrain as it can rise 6 inches above the standard ride height.
2023 Hummer EV Pickup Cargo Space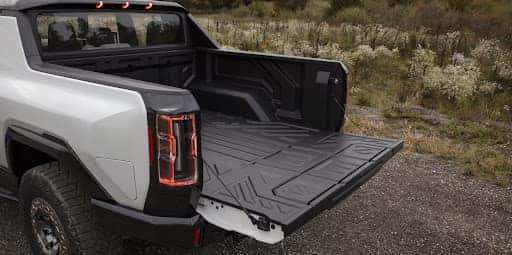 The Hummer pickup is an electric vehicle with an eTrunk where the engine normally goes. The eTrunk volume measures 11.3 Cubic feet, sufficient to haul small cargo.
Since the truck has a double cab design, it has a cargo bed area behind the second row of seats. The cargo bed for the 2023 Hummer EV pickup measures 60.1 inches. The payload for the truck is 1300 lbs meaning it can haul heavy loads easily.
The Hummer also features GMC's MultiPro Tailgate, making loading cargo easier.
2023 Hummer EV Pickup Color Options
Unlike the 2022 model that only came in Interstellar White, the 2023 Hummer EV pickup gets many new external colors. The new colors include Afterburner Tintcoat, Void Black, Deep Aurora Metallic, Tide Metallic, and Meteorite Metallic.
Interior color options include Lunar Shadow, a combination of Taupe and Jet Black, and Lunar Horizon, a combination of Light Gray and Jet Black.
Performance of the 2023 Hummer EV Pickup
The 2023 Hummer EV encompasses leading vehicle engineering with its impressive power output and performance. The super-truck is heavy but accelerates very quickly with 1000 horsepower at its disposal thanks to the power from the Ultium batteries.
2023 Hummer EV Pickup Power Delivery and Acceleration
Power on the 2023 Hummer EV pickup is available as a setup of three motors powered by a set of Ultium batteries. The electric motors churn out 1000 horsepower delivered to the vehicle's four wheels. 11,500 lb-ft of torque is available from 0 mph since the vehicle isn't reliant on revolutions per minute.
0-60 takes an impressive 3.3 seconds, similar to a supercar like Corvette Stingray. Two things make the Hummer EV pickup so quick off the line. The first is its impressive horsepower and torque. The second is the Watts to Freedom feature, enabling quick acceleration off the line.
GMC encourages drivers to use the Watts to Freedom tool only on a closed course and never on public roads to ensure general safety.
2023 Hummer EV Pickup Charging and Mile Range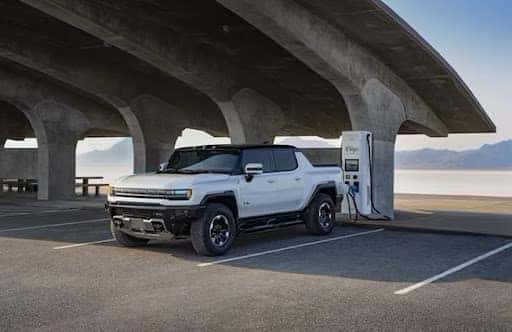 A full charge gives around 329 miles of range on the Edition 1 trim and 355 miles on the 3X. The vehicle comes standard with a dual-level charge cord, enabling users to charge at two levels. Level 1 charging is at home, and level 2 charging is mainly at a fast charging station.
Level 1 charging uses any three-prong outlet in your home that has 120V. The charging rate is 1.4kW which takes a lot of time. However, you can speed up charging at home with a level 2 charging that requires professional installation to increase the voltage to 240V. Charging using level 2 gets you 10 miles every hour.
When away from home, there are charging stations available with level 2 and DC fast charging. Level 2 charging gives 16 miles for one hour of charging. DC fast charging gives 100 miles for every 12 minutes of charging.
With over 45,000 charging stations in the US and Canada, the DC fast charging option is ideal and allows you to continue driving your truck while away from home. However, charging time may vary depending on factors like the state of the battery, charger output, outside temperature, and vehicle settings.
2023 Hummer EV Pickup Towing Capacity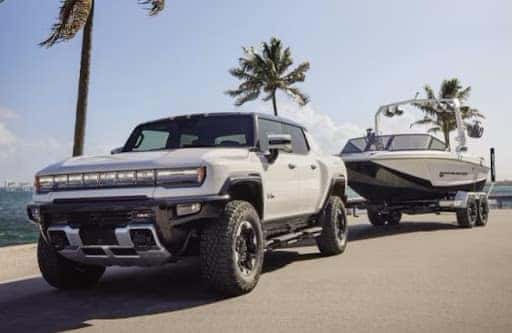 The Hummer EV truck has a towing capacity of 8,500 lbs. The vehicle can comfortably tow heavy items like campers, small boats, and trailers. A ProGrade Trailering function helps the driver monitor important trailering aspects like camera views around and behind the towed object.
Additional Features of the 2023 Hummer EV Pickup
The 2023 Hummer EV pickup features many features that add to the vehicle's uniqueness. They include:
CrabWalk
Extract Mode
Ultravision
Infinity Roof
CrabWalk
It's available on the truck as a 4-wheel steer mechanism that turns the rear wheels in the same direction as the front. The result is a truck that can drive diagonally to help maneuver tricky off-road terrain. The crab walk also functions at low speeds.
Extract Mode
Raises the vehicle's ground clearance even higher to get over rugged terrain.
Ultravision
It's an available feature for the 2023 Hummer EV pickup that provides 18 real-time camera views, including underbody views. The feature helps in better maneuvering the big truck.
Infinity Roof
It's available on the truck as a removable four-roof modular sky panel. With this feature, it's possible to bring the outdoor ambiance into the truck's cabin.
FAQs
How Much Does the Hummer EV Pickup Cost?
The low-spec Edition 1 trim has a starting price of $84,650, while the high-spec 3X trim has a starting price of $104,650. The price is inclusive of standard features but minus the available additional features.
How Long Does a Hummer EV Pickup Battery Last?
The Hummer's battery can last five years, depending on several conditions. For example, driving habits, charging conditions, and weather conditions.
How Much Does a Hummer EV Pickup Weigh?
The Hummer EV pickup weighs a total of 9,000 pounds, and that is why it's a super truck. One significant contribution to the weight is its colossal battery which weighs almost 3,000 pounds. For reference, the battery weighs almost the same as a hatchback.