2024 Chevy Equinox-EV LaGrange

Chevrolet will be releasing the new 2024 Chevy Equinox-EV in the fall of 2023, and this car is a game-changer for the motor vehicle industry. Besides selling for an affordable price compared to other electronic vehicles, the Equinox-EV brings excitement.
Here are the various trims this spectacular car comes in:
2024 Chevy Equinox-EV TRIMS & Models
The new 2024 Chevy Equinox-EV comes in five trims, namely;
1LT

The 1LT comes as a standard SUV with front-wheel drive. The estimated range for the 1LT trim is 250-300 miles. If you upgrade to all-wheel drive, the estimated range is 280 miles per single charge. The front-wheel drive comes at the cost of $30,000. Some notable features of the 1LT include:
11-inch screen for infotainment
19-inch wheels made of aluminum
Bluetooth connectivity (you can connect a mobile device and stream music)
Manually adjustable front seats
2LT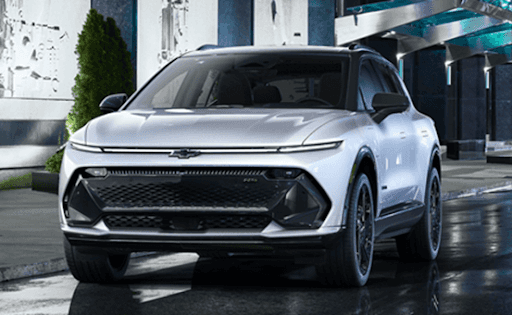 The 2LT is a step up from the 1LT and provides various advantages. You'll love the heated steering wheel and the comfort of the heated front seats. The power seat adjustment buttons enable you to adjust the seats, reclining to the most comfortable position. Its estimated price is $34,000.
Here are some other features of the 2LT:
17.7-inch screen for infotainment
11-inch driver information center screen
8-way power-adjustable driver seat
A sunroof
19-inch wheels
Adaptive cruise control and HD surround vision
Supercruise driver assistance technology
Heated outside mirrors
Roof rails
LED lightbar at the front
Adaptive cruise control paired with HD surround vision
The interior can be black with blue accents or sky cool gray
3LT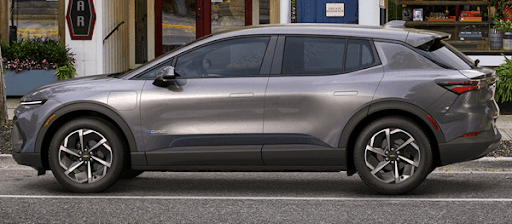 On top of the 2LT premium features, the 3LT has the following additional features.
Heated wipers to clear snow and ice in cold weather
Heated seats (both front and rear)
8-way power-adjustable driver seat. The front passenger seat is 6-way power-adjustable
Bose audio system
A sunroof
21-inch wheels (higher in height)
Presence-based lower liftgate
Head up display
Full display camera mirror
Rear camera mirror
LED light bar to the front
Dual-zone climate control allows you to control the temperatures in the vehicle at different times
17.7-inch infotainment screen
11-inch driver communication center screen
The interior can be black with blue accents or sky cool gray
2RS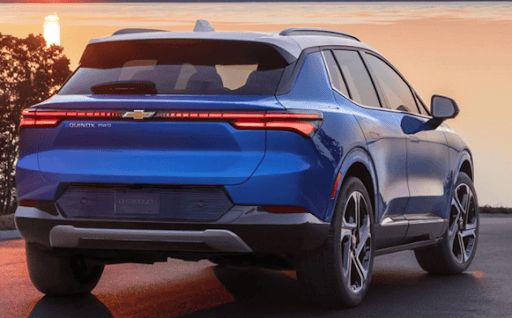 One of the distinct features of the 2RS is the 20-inch aluminum wheels. This exciting trim has other features that include;
8-way power-adjustable driver seat
Roof rails
Heated front seats and steering wheel
17.7-inch infotainment screen
11-inch driver information center screen
The Interior can be adrenaline red or black with red accents
LED light bar at the front
Heated outside mirrors
A sunroof
Presence-based power liftgate (available)
Adaptive cruise control (available)
Supercruise technology to assist driver (available)
Black roof (available)
3RS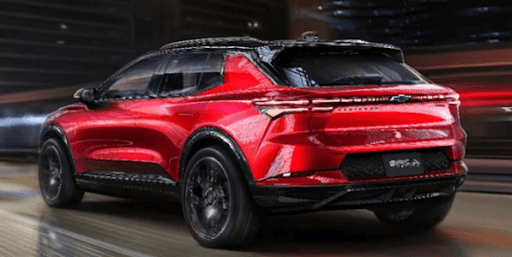 The 3RS is a higher Equinox-EV coming with various exciting features. Some of the features include;
21-inch wheels
8-way power-adjustable driver seat. The front passenger seat is 6-way power-adjustable
Heated front and back seats
Dual-zone climate control
Heated wipers
LED light bar at the front
Heated outside mirrors
Heated steering wheel
Roof rails
The Interior can be adrenaline red or black with red accents
Head up display
17.7-inch infotainment screen
11-inch driver information center screen
Sunroof (available)
Bose audio system (available)
Presence-based power liftgate
Head-up display (available)
AC charging module (19.2kW)
2024 Chevy Equinox-EV  Exterior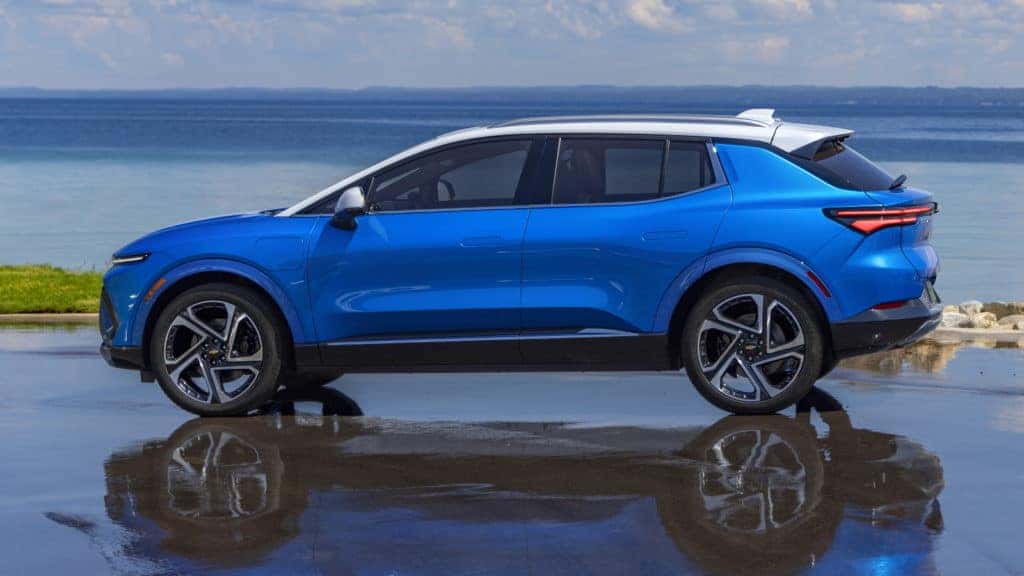 Chevrolet designed the Equinox-EV to provide users with an aesthetic appeal. Since it does not contain extroverted colorings to style it, it can fit in with other cars in any parking lot.  Some notable elements of the exterior design include:
The LT trims have a design that resembles the gas-powered models
The front end looks slightly different, with the full width having a thin light bar
The LT version has horizontal stylings that make it look like the Ford Mustang Mach-E
The RS trims are different, with an entirely black front fascia with a red RS tag near the upper right corner
If you like a bit of style,  you can get LT trims with a white roof. The RS trims offer an optional black roof
The Equinox-EV has a smooth front
The driver's side has a large charge door (one of the few signs showing it is an EV)
Some trims feature heated windshields for improved efficiency during cold seasons. They will easily break free when covered with ice or snow
When you compare wheel sizes, they range from 19 to 21 inches. The 1LT and 2LT trims have 19-inch wheels, while the 2RS has 20-inch wheels. The 3LT and 3RS are slightly taller, given that they have 21-inch wheels. However, their range is slightly shorter than the other trims.
The Equinoxes come in a variety of colors, namely;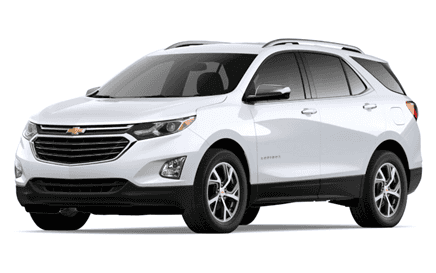 Summit White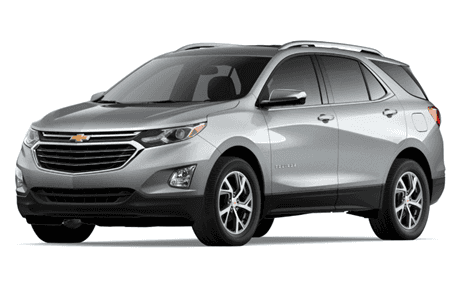 Silver Ice Metallic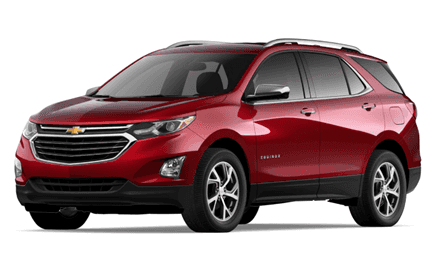 Cajun Red Tintcoat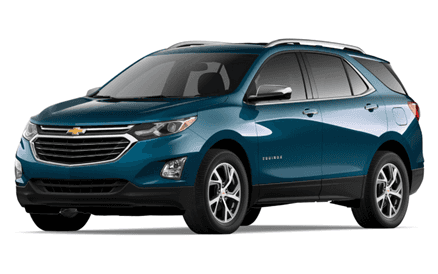 Pacific Blue Metallic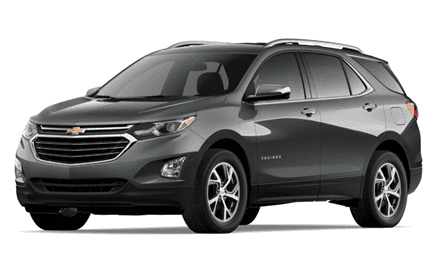 Nightfall Gray Metallic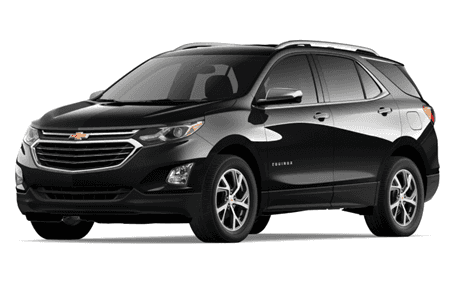 Mosaic Black Metallic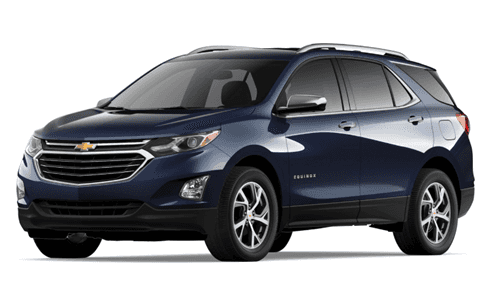 Midnight Blue Metallic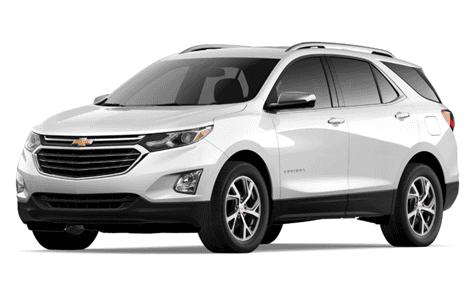 Iridescent Pearl Tricoat
2024 Chevy Equinox-EV  Interior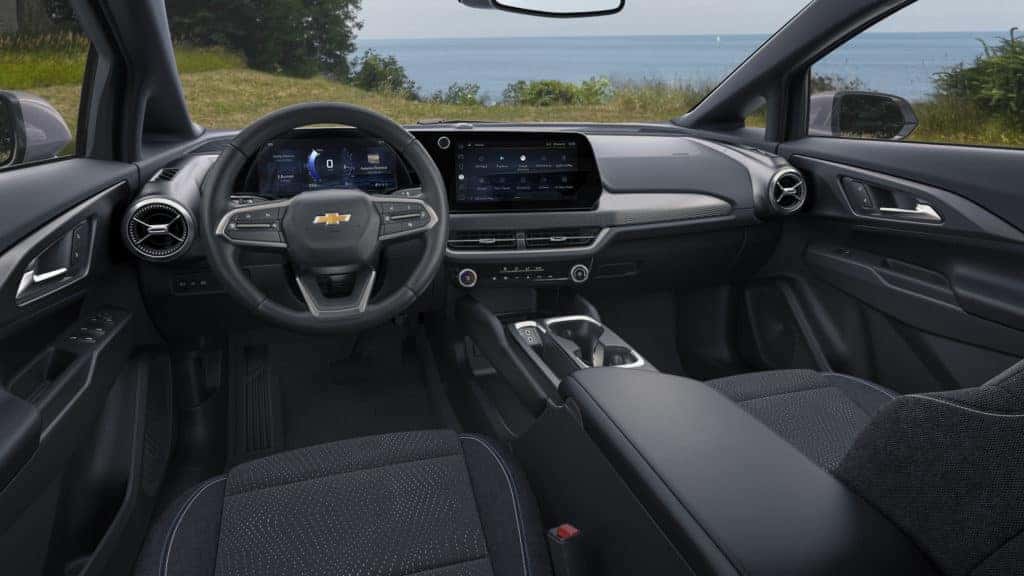 The interior of the Chevy Equinox-EV is designed for passengers to feel comfortable as they travel.
Some elements to expect in the interior include:
A leather-wrapped steering wheel
Heated front seats
Heated rear seats
In addition to these design elements, many technological features can be found inside this vehicle, including:
An 11-inch touchscreen display on the dashboard shows you everything from your speedometer readings to your radio station presets
Higher models have a 17.7-inch infotainment screen
You can use the display screen to access your phone's navigation system or play music through your stereo system
There's a 57 cubic feet cargo room to provide enough storage space for your belongings
2024 Chevy Equinox-EV  Features
The 2024 Chevy Equinox-EV has many features that will make your life easier. The new model has a powerful engine, electric motor, and battery.
Electrifying Capability
Although the Equinox offers quick acceleration, you will love the smooth ride. It allows you to have fun while conducting everyday tasks.
GM estimates that the front-wheel drive has 210 horsepower and 242 lb-ft torque
Equinox all-wheel drive provides 290 horsepower and 346 lb-ft torque
The one-pedal driving adds more fun to your driving experience – drivers use only the accelerator for acceleration and slowing down to a complete stop
Pairing one-pedal driving with regenerative braking allows the conversion of kinetic energy resulting from the vehicle's forward motion to electric energy
The car stores the electric energy in the battery, increasing the driving range
It features wireless charging technology which you can use to charge your phones and other electronic devices without plugging them in
Don't use wireless charging if you have any medical devices plugged in since it affects their functioning
Charging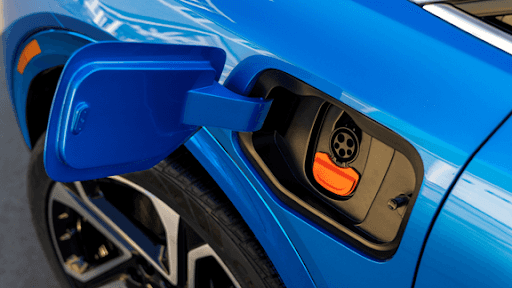 You wouldn't want to get stranded because of a low battery when on the road. Chevrolet makes it easier for you to charge the battery and hit the road again.
Check the driver's side fender for the charging port.
The Equinox-EV comes with a standard 11.5 kW charging module, with the ability to add up to 34 miles of range per hour of charging
The 3RS all-wheel drive has a 19.2 kW charging module, adding up to 51 miles of range per hour of charging
Notably, all models can fast charge up to 150kW and add up to 70 miles of range within ten minutes
Although GM does not have its charging stations like Tesla, the company uses its app and software, the Ultium Charge 360 network.
Ultium Charge 360 network enables drivers to locate third-party charging stations, including ChargePoint, EVgo, and SemaConnect
The battery comes with an 8yr/ 100,000- mile limited warranty. This guarantees peace of mind as it adds to the standard bumper-to-bumper coverage
Safety Features
Chevrolet understands the need for safety on the road, and the Equinox-EV comes with various standard features for your safety. They include:
Automatic crash notification
Lane departure warning
Forward collision warning
 Automatic emergency braking
Blind zone steering assist
Rear cross-traffic braking
Reverse automatic braking, and many more.
The Equinox-EV includes various driver assistance technologies like adaptive cruise control and HD surround vision. It also features a head-up display and rear camera mirror. All these features ensure that the driver drives peacefully and focuses on the road ahead.
If you want to experience hands-free driving, the Equinox-EV has the supercruise feature. It allows you to drive hands-free for distances up to 400000 miles on compatible roads in the U.S. and Canada.
Propulsion Systems
The 2024 Equinox-EV provides users with two propulsion systems. One can choose forward-wheel drive or all-wheel drive. The forward-wheel drive is a standard feature for every trim, but each has a different range.
Trim
Propulsion system
Range (in miles)
1 LT

FWD (standard)

FWD (available)

AWD (available)

250

300

280

2LT and 3LT

FWD (standard)

AWD (available)

300

280

2RS and 3RS
FWD (standard)

AWD (available)

300

280
Warranty Coverage
Chevrolet offers customers various plans for the maintenance and coverage of their phones. They include several standard coverage limits.
Powertrain warranty – covering five years, upto 60000 miles
Limited warranty covers – covering three years, up to 36000 miles
 Electric components cover – covers 100000 miles or eight years
Complimentary maintenance – one visit for maintenance
What's New With the 2024 Equinox?
The Chevy Equinox is a midsize crossover SUV that looks ready to take on any terrain but is also comfortable enough for daily driving. With the addition of its all-electric version, you can drive in style. The Equinox-EV is an all-new car with an exciting design, incredible performance, and an affordable price tag.
Here are some important things to note about the new 2024 Equinox:
While most EVs cost over $50K, this one only costs around $30K (it will save you money)
It has a spacious cabin with plenty of room for your luggage
It has a stylish and modern interior, with many accents available for further styling
The car has comfortable seats with plenty of room for your feet to maneuver
There's a large center console to hold your phones and other personal items while you drive
Chevrolet designed everything for intuitive functionality, from the console, display screen, climate controls, etc.
If anything isn't working well, an indicator pops up on the screen to alert you
FAQs
How Much Is the Electric Equinox?
Chevy aims to produce the cheapest electric cars to allow everyone to drive while protecting the environment. For a 1LT forward-drive with a range of 250 miles, the estimated cost is $30000.
Where Will EV Equinox Be Built?
GM's Ramos Arizpe production facility in Mexico is where the production will be done. Limited edition 2RS is expected to be the first model released in the fall of 2023.
How Many Hours Does It Take to Charge an Electric Car?
66 It depends on the car and the charger. The Chevrolet Equinox-EV, for example, can be charged in about 4 hours with a 240-volt charger. Remember that it will also depend on the battery pack size and the charger type (regular wall outlet or fast-charging station). For example, if you're using an outlet that outputs 120 volts instead of 240 volts, you'll need more time to get your car fully charged than if you had used a 240-volt outlet.
What Car is Chevy Bringing Back in 2024?
The Chevy Equinox-EV is a new electric vehicle being brought back in 2024. It's a crossover SUV, making it great for families and people who need the space of a car but want the freedom of an SUV. The new Equinox will be available as an all-electric vehicle, with a range of up to 300 miles on a single charge.
Does the Equinox Come in a Hybrid?
The Chevy Equinox does not come in a hybrid. It only comes in an electric version. The Chevy Equinox-EV is a plug-in electric vehicle that can go up to 30 miles on battery power alone before needing to be plugged in again.