Auto Windshield Glass Replacement and Repair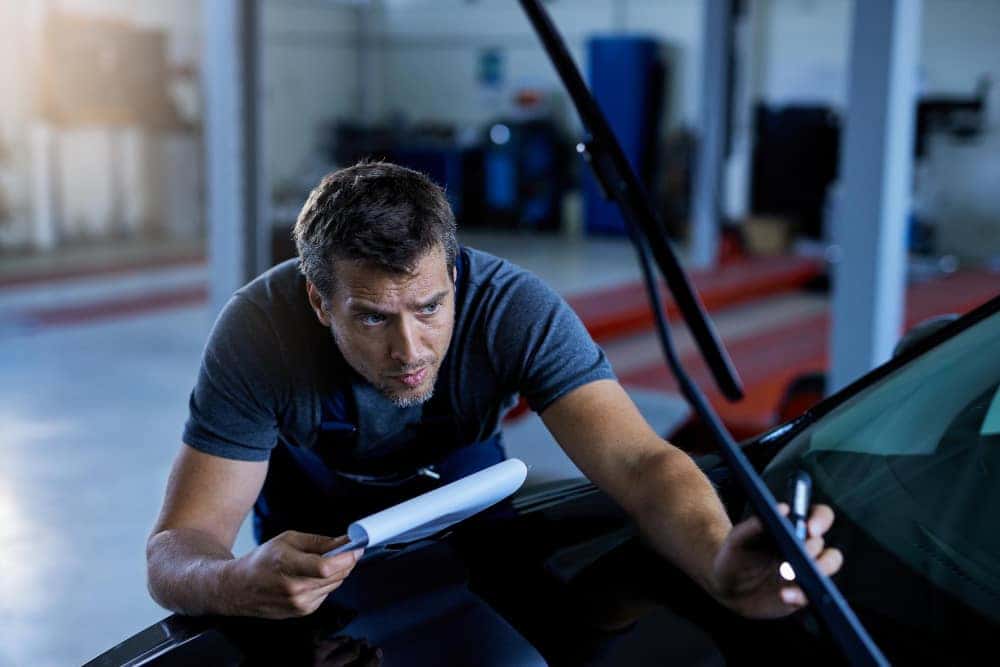 Did you know that the windshield was a luxury automobile item in the early 1900s? Only wealthy car owners could afford to install windshields on their vehicles.
Today, windshields are standard on all vehicles. They are more of a safety feature than a luxury item. They protect against wind, debris, and rain. As a result, windshields can shatter upon applying considerable force on it.
It is essential to check the windshield for damages and schedule a repair at Auto Gallery Chevrolet Buick GMC.
When Do I Need Auto Windshield Glass Replacement or Repair
To determine the type of service that you will want for your windshield, take note of the crack's size, the crack's depth, and the location of the crack on the windshield. If the crack is bigger than a dollar bill (up to 3 inches), you need a windshield replacement. A repair will be enough if the crack is less than a dollar bill.
Apart from visible chips and cracks, other signs of a damaged windshield include.
Poor visibility
Discoloration of the windshield
A cloudy windshield
Bull's eye cracks
As soon as you notice any of these signs on your windshield, it is essential to schedule a windshield glass repair or replacement. Failure to do so may have the following consequences.
It could obstruct your field of vision while driving on the road leading to accidents.
In some states, you may get into trouble with law enforcement officers or face an expensive traffic citation.
Water leaks in the vehicle's cabin
Increase in wind noise in the cabin
In some modern cars, airbags may fail to deploy during an accident because they rely on the windshield's integrity.
During an accident, your vehicle's roof may cave in since the car's windshield is a supporting structure.
How To Replace the Windshield
The process of replacing the windshield is as follows;
Remove the old trim holding the windshield in place using a razor tool.
Use large suction cups to remove the windshield away from the car carefully.
Clean the windshield pinch held of old urethane and debris.
Apply urethane on the pinch weld's edges.
Using large suction cups, lift the new windshield and carefully push it into the hole.
How To Repair a Cracked Windshield
The following are the steps to ensure a quality windshield repair, provided you have a repair kit.
Clean the area containing the crack using a microfiber towel and rubbing alcohol in small amounts
Place a patch on the exterior of your window. If the patch contains a pedestal, line it up with the patch and press against the gluey bond.
Using a syringe, use liquid resin to fill the pedestal and push it down.
Pull back on the syringe to create a vacuum. Make sure to hold down the pedestal as you pull the syringe out.
Wait for the air bubbles to escape, usually around 10 minutes, and remove the syringe and pedestal.
Place the curing strip on the crack to remove air bubbles, then use a razor blade to remove the curing strip carefully.
Carefully scrape off excess epoxy from the site of application on the windshield.
How Much Does Auto Windshield Glass Replacement Cost?
Windshield replacements can take up to 1 hour to replace them. Depending on the vehicle's make, they cost around $200 to $400.
A windshield crack repair is faster than a windshield replacement and will take around 20 minutes. It is also cheaper to repair and costs about $50 to $150.
Get Quality Auto Windshield Glass Replacement and Repair
You must take your car to professionals if you want a professional job done on your windshield.
Stay safe on the road by getting your damaged windshield repaired or replaced by professional windshield technicians at Auto Gallery Chevrolet Buick GMC.
We will ensure a timely windshield repair or replacement so that you can drive off with your vehicle in less than an hour from your arrival time.