Car & Truck Engine Repair & Replacement LaGrange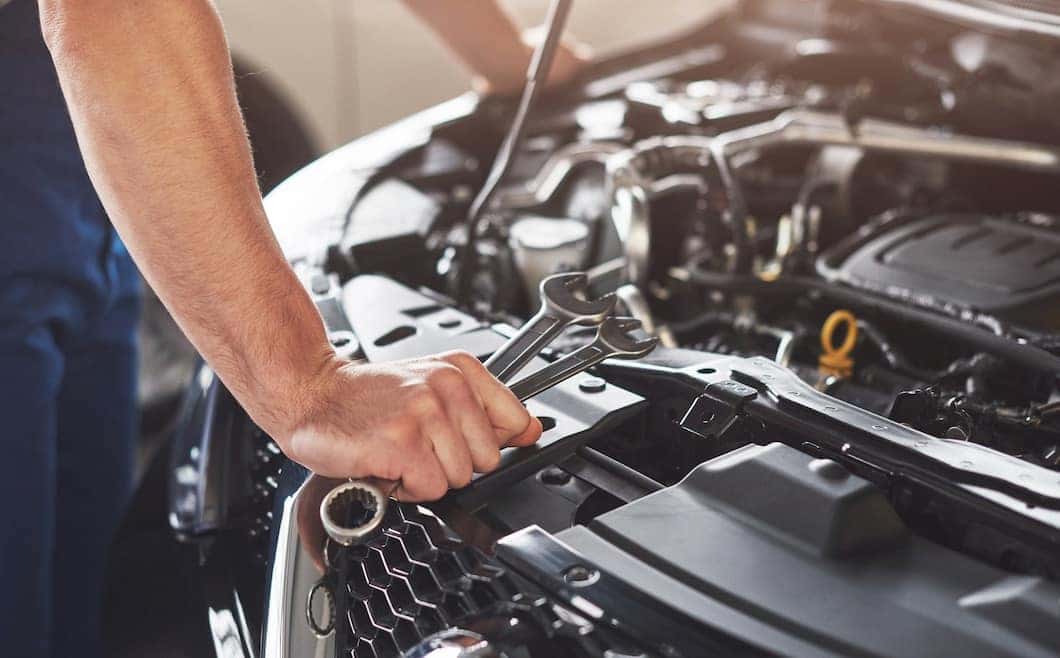 Look no further if you are looking for professional car and truck engine repair in LaGrange. At Auto Gallery, we have professional GM technicians ready to restore your engine's health so that you can get back on the road in no time.
You can schedule an engine service online and avoid the hassle of queuing. You need to visit our website and schedule car service online. Input the vehicle's year, make, and model on the website. We will allocate a suitable time for you.
Engine Repair & Replacement LaGrange
As with any mechanical tool, car and truck engines tend to depreciate over time. The duration of depreciation depends upon factors like how often you use the vehicle, how you drive the vehicle and servicing habits. However, even when not driven, vehicles still depreciate rapidly and start having faulty engines.
So what do you do? The simple answer is that you must repair your faulty engine to get back on the road. In extreme cases, you may need to do an engine replacement.
Fortunately, at Auto Gallery, we have a competent engine repair shop in LaGrange. Visit us from Monday to Friday, 7:30 to 5:30 PM, and Saturdays from 8:00 AM to 1:00 PM.
Engine Repair Services LaGrange
Motor mount replacement
Air filter replacement
Coolant replacement
Engine replacement
Pistons
Head Gasket repair
Timing Belt or Chain
Motor Mount Replacement
When driving your car or truck, and you notice that your engine vibrates too much such that the vibrations reach the cabin area, it might be time to replace your motor mounts. We will replace your engine's quality motor mounts so you can return that comfy vibration-free ride.
Air Filter Replacement
Each time you start your car, you notice the smell of gas. Your vehicle may have started to consume more gas.  If you notice any of these symptoms, then it might be essential to have an air filter replacement.
Coolant Replacement
The engine of your car is a mechanical structure with many moving parts. As a result, the engine temperatures tend to rise. And this is where the coolant comes in. It is a colored liquid that helps to regulate your engine temperature. If you notice that your vehicle has temperature issues like overheating, then it might be time to replace your coolant or top up to a proper level.
Engine Replacement
If you subject your car to rough driving and neglect to service it often, you may get an engine knock. A knocked engine can no longer drive a vehicle. In such a scenario, you need the services of a professional auto shop to fix a new engine in your car so that you can get back on the highway.
Pistons
Pistons are the moving parts in Internal Combustion Engines (ICE). Sometimes oil may sip into these cylinders causing damage to these pistons. When this happens, you need the services of a professional technician to install genuine pistons for your particular car brand.
Head Gasket Repair
A head gasket is utilized to prevent fluid leaks from the engine block into the cylinder head to maintain optimal working pressure for the engine components. When these head gaskets become faulty, it can spell doom for your engine. You will need to let a professional technician diagnose this problem and provide remedies.
Timing Belt or Chain
In ICE engines, timing belts and chains in some cars are used to synchronize the rotatory movements of the crankshaft. It enables the engine's valves to open and close correctly. You will notice a faulty timing chain when you have difficulties starting your vehicle, the engine misfires, you hear some ticking noise in the engine, and abnormal revs.
If you notice any of these symptoms, it may be time to have your timing belt or timing chain checked out or replaced.
Diesel Engine Repair LaGrange
While diesel engines last longer than their gasoline counterparts, they have their fair share of problems like oil oxidation, black exhaust, glow plug failures, and issues with hard starting. If you're in LaGrange and your diesel-powered engine starts to display some of these issues, you may need to book a diesel engine repair service.
Diesel engines in trucks, especially those used as workhorses, may need more service intervals than other vehicles. If your truck's engine starts to underperform or displays some of these issues, a truck engine repair will get you back to working with your truck in no time.
Car Engine Repair
Car engines suffer from problems like blocked or faulty engine radiators, faulty or aged spark plugs, timing belt failure, and improper lubrication. Fortunately, these aren't serious problems, especially when diagnosed and solved by a professional in Auto gallery LaGrange.
In addition, if your car engine has not reached the 200,000-mile mark and you have no major mechanical problems, then your car engine will do well with a car engine repair instead of a complete overhaul of the engine.
Engine Replacement Cost
The engine is the heart of the car, and it can't run without it. You may need to dig deeper into your pockets to install a new engine in your vehicle. Depending on the make and model of your vehicle, an engine should cost around $4,000 to $7,000.
4-cylinder engines are the cheapest, followed by six-cylinders and eight. 12-cylinder engines are the most expensive. In addition to the cost, you will have to add around $1000 to $1800 for labor.
At Auto Gallery LaGrange, you can get good deals with our professional engine replacement services.
Serpentine Belt Replacement LaGrange
The serpentine belt, also known as a fan or accessory belt, is a long belt that runs your car's alternator, air conditioning, and power steering pump. It constantly runs when the car is on. And because of this, the serpentine belt may fail.
Common reasons for the failure of the serpentine belt include a misaligned pulley and a defective bearing belt tensioner. You will find that the serpentine belts usually last for 50,000 to 100,000 miles depending on the type of belt. For example, newer ethylene propylene diene monomer rubber belts last longer than outdated neoprene rubber belts.
You can get a Serpentine belt replacement at Auto Gallery Lagrange at affordable prices. Our able technicians are also able to install these belts when yours fail.
Serpentine Belt Replacement Cost
Serpentine belts are relatively cheap and easy to fix, mainly because they are rubber. If you wish to get a serpentine belt replacement, you can get one ranging from $50 to $250. This includes the cost of the belt itself plus the labor to fix it.
GMC Sierra Serpentine Belt Replacement
If you're driving your GMC Sierra and you notice the following problems, you may need to diagnose your serpentine belt or have a professional look at it.
A high-pitched squealing sound
Visible wear and tear marks on the belt.
The serpentine belt's accessories, e.g., the power steering pump or AC compressor, stop functioning.
Overheating due to stoppage in turning of the water pump by the belt
Fortunately, the GMC Sierra serpentine belt is cheap and easily replaceable. For example, to replace the Serpentine belt for a 2021 GMC Sierra 3500 HD, you will part with $34.90. An auto mechanic will take about 30 minutes to replace the belt.
Chevy Silverado Serpentine Belt Replacement
The serpentine belt in a Chevy Silverado powers the following accessories; the alternator, power steering pump, air conditioning compressor, and water pump.
If you notice that any of these accessories don't work, you will need to change your serpentine belt. Sometimes you may notice that there is a squeal in the engine area. Or, upon closer inspection, you find that the belt has fallen off while driving.
Fortunately, you can get a $61.66 serpentine belt for a 2021 Chevrolet Silverado 6500 HD. The time taken to replace the belt is 30 minutes.
Serpentine Belt Repair: Can You Repair It?
Unfortunately, you can't repair a serpentine belt. Your best bet would be to replace it with a new one. This is the easier option as serpentine belts are relatively cheap and readily available for different vehicle makes.
In addition, a new serpentine belt will give you an extra 50,000 miles before you can think of replacing the serpentine belt again.
Fan Belt Repair & Replacement LaGrange
The fan belt serves almost the same purpose in the engine; to provide rotational power to some accessories and engine parts. The fan belt moves the driveshaft, the radiator fan, and the alternator. One symptom that your fan belt has failed is an overheated engine.
At Auto Gallery La Grange, you can get a fan belt replacement within a 15 to 30-minute waiting period.
Fan Belt Replacement Cost
The cost to replace a fan belt is around $100 to $250. This cost includes the cost of the fan belt as well as the labor cost. You can replace the fan belt as a preventative measure when you clock around 60,000 to 90,000 miles, although different vehicle manufacturers will have different mile ranges for their fan belts.
Alternator Belt Replacement & Repair
In older-generation vehicles, engines had several belts that served various engine parts. With time manufacturers started using single V belts for different engine accessories.
However, it is not uncommon to see an alternator with its belt. It serves the purpose of making sure that the battery remains charged.
When The pulleys are faulty or misaligned, the alternator belt may fail. Other times the alternator belt may suffer from tear and wear and require to be replaced.
Alternator Belt Squeal Repair
One indicator of a faulty alternator belt is a squeal resulting from the belt slipping out-of-place due to loss of tension, or it could be that the belt is cracked. The repair for a squealing alternator belt is replaced with a new belt.
FAQ
Should I Replace a Noisy Serpentine Belt?
It is advisable to do so as it indicates an impending total failure of the serpentine belt, which could come off as you drive.
Where Can I Get My Serpentine Belt Replaced?
You can get your serpentine belt replaced at AutoGallery Chevy Buick GMC in LaGrange at affordable prices.
How Much Does a Fan Belt Cost?
If you're wondering how much a fan belt is, it will cost between $50 and $100. However, this depends on the make and model of your vehicle.
How Much Does It Cost to Replace a Fan Belt?
If you're wondering how much a fan belt replacement will cost you, between $50 and $150 as labor costs to replace your faulty fan belt.