Crossover Dealership LaGrange
If you plan your next road trip adventure with your family or your friends, you might want to upgrade your vehicle. More seating space, and cargo space will benefit everybody. We all want a comfortable ride, don't we? Crossover SUVs are making the rounds on the market as it is also a great vehicle upgrade.
With different car models on the market, it may be exhausting to decide which car is best for you. It depends on your usage, lifestyle, and purpose. Your trusty car dealership, Auto Gallery Chevy Buick GMC in LaGrange, can give you your needs and make your life easier as you purchase your very own Crossover SUV. Giving you a wide range of choices from brand new to used Crossovers, Auto Gallery Chevy Buick GMC in LaGrange is the go-tocar dealership for Crossover SUVs.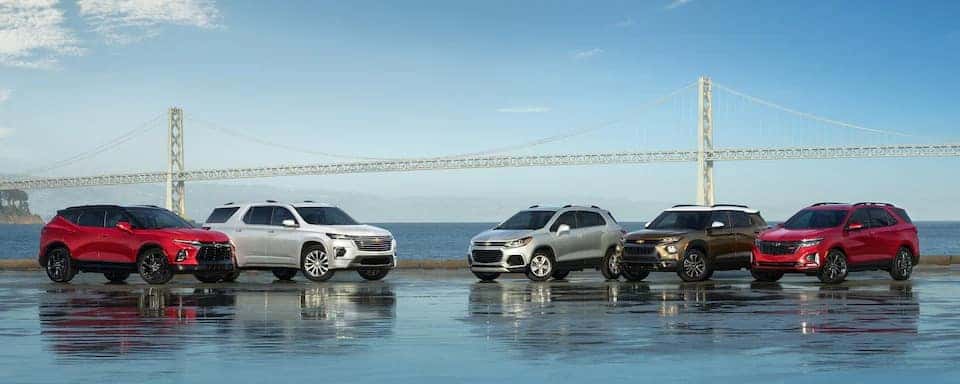 What is a Crossover SUV?
Generally smaller than the SUV, a Crossover SUV is manufactured with the same framework but as a smaller hatchback. Although an SUV and a Crossover SUV may have a lot of similarities, a Crossover SUV does not have the same towing and hauling capacity as an SUV.
An SUV may be an ideal vehicle as it has the power, cargo space, and can seat more people comfortably, but it is not for everyone. Hence, the birth of a Crossover SUV. Car manufacturers came up with a Crossover SUV for people who do not haul items as big as a boat or pull trailers around the city.
The Different Types of Crossover SUV Explained
Compact SUVs
Turbocharged Gas I4 1.5L/92
6-Speed Automatic
26 CITY / 31 HWY
Forward Collision Warning
Keyless entry and Remote start
1.5L Turbo 4-cylinder engine
25 CITY / 30 HWY
Automatic Transmission
Keyless entry and Remote start
Side-impact airbags
Subcompact SUVs
ECOTEC 1.3L Turbo engine
29 CITY / 32 HWY
Sunroof/Moonroof
Keyless entry and Remote start
Heated seats and Leather Appointed Seating Package
ECOTEC 1.3L Turbo engine
Forward Collision Alert
LATCH system (Lower Anchors and Tethers for CHildren)
Equipped with 10 airbags
Theft-deterrent system, electrical, unauthorized entry
ECOTEC 1.4L Turbo engine
24 CITY / 32 HWY
Keyless entry and Remote start
Automatic Transmission
Front Wheel Drive
1.4L Turbo engine
24 CITY / 32 HWY
Keyless entry and Remote start
Automatic Transmission
Side-impact airbags
Reasons to buy an Crossover SUV
If you are still in a blur whether to purchase a Crossover SUV or not, ask yourself these questions and this might help you plan your next vehicle purchase.
Does it have enough power?
A Crossover SUV may not have the same towing and hauling power as an SUV but it still weighs heavier than usual cars. You may need the power that comes with it as this is still a large yet compact vehicle.
Is it comfortable and spacious?
One reason to upgrade your car is comfortability. Can it fit 7 passengers comfortably, or can I squeeze in an 8th person? Will my big grocery purchase be a bother to the passengers at the back? Car brands made sure of this when building a Crossover SUV.
Can I afford a Crossover SUV?
Crossover SUVs are available for purchase at different price points, with different models and styles to choose from to fit every driver's needs. You can splurge for a more luxurious feel, or stick with the budget and get what you need.
Crossover SUV Test-Drive Checklist: Things to Look For
Drivability
If you will be upgrading your car into a Crossover SUV, it will feel a bit different if you are used to driving a sedan. Its obvious difference, the size, may make it hard for you at first. You should be able to adjust to it easily as soon as you warm the seat.
Visibility
The elevated seat may be one of your reasons to buy a Crossover SUV. As you enjoy the view ahead, make sure you can see all around the vehicle.
Cabin Comfort
When going Crossover SUV shopping, do not just get a feel of the driver's seat. Take a tour of those rows, look for those warm spots and check out for things that can make your passengers comfortable in rear seats.
Storage Solutions
Your Crossover SUV may have a specific use for you. From small packages, to large grocery hauls, Crossover SUVs have more storage room than you can imagine. The rear end of the car can store items as high as the Crossover's ceiling.
Parking
Before purchasing your own Crossover SUV, consider where and how you park. Is your garage tall or wide enough? Take this into consideration before purchasing a Crossover SUV or before doing upgrades on your car.
What Crossover SUV Buyers Should Consider
There are quite a handful of choices for Crossover SUVs for sale. It may be difficult to narrow down your choices to the one you will be taking home. Do your research beforehand and look far and wide for different models at different car dealerships. You may want to consider the things listed below to make your Crossover shopping less complicated:
Assess Your Needs
First off, think about your usage. Consider how often you will be driving, how many people will ride the car often, and for what purpose. This is when your lifestyle comes into play. If you are going for a more family-friendly, and more on the road driving, a Crossover SUV is for you.
Efficiency and Reliability
With gas prices on the rise, fuel efficiency is more important than ever. You want to maximize and utilize your vehicle. At this point, you may want to look into hybrid models as they are built with gas and electric power.
Safety and Technology
When buying a car, do not hesitate to ask the salesperson in detail about the security features of a Crossover SUV. Crossover SUVs have updated security features especially if you are eyeing a newer model.
Buying your Crossover SUV at Auto Gallery Chevy Buick GMC in LaGrange
Crossover SUVs are a great vehicle especially when you want something with power and spacious yet compact. You should get your Crossover SUV from Auto Gallery Chevy Buick GMC in LaGrange.
Auto Gallery Chevy Buick GMC in LaGrange has the most friendly staff that provides you with excellent customer service. They will help you figure out what Crossover SUV and financing term best suits you. Their team ensures that they are with you every step of the way. On top of that, Auto Gallery Chevy Buick GMC in LaGrange has a wide selection of Crossover SUVs for sale.
FAQs
What crossover holds its value?
Crossovers with hybrid models tend to hold its value more than others. It is said to hold more than 60% of its value after 36 months.
How do I choose the right SUV?
Choosing the right SUV for you will be crucial. Always consider the drive, fuel efficiency, and comfort and space.
Are SUVs safer than cars?
With how SUVs are made, SUVs are generally safer than cars. As it is built with a sturdier frame, and a truck-like body, it should be able to withstand the test of time.
Is it worth getting an SUV?
Buying an SUV is definitely a bang for your buck. If you want a vehicle upgrade, do not skimp on yourself and splurge on an SUV. Its overall features and capabilities are worth it to spend on.